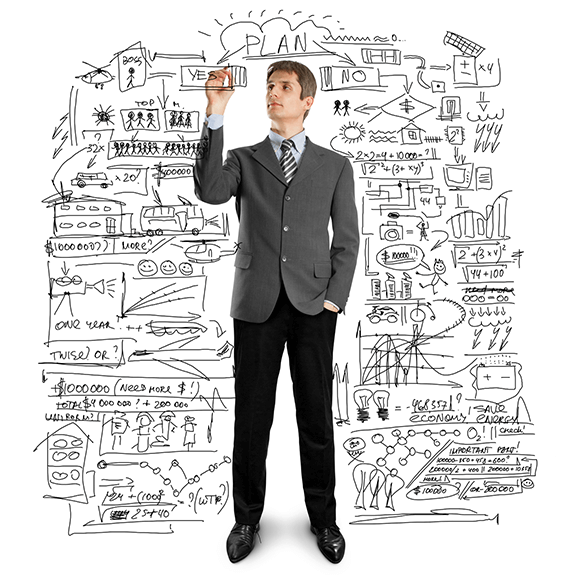 Creating a new business can be a dream come true, but with insufficient planning, the dream can become a nightmare. Some entrepreneurs dream of creating a specific enterprise for many years and work to make it happen. Others turn to offering a service themselves when their employment ends or is unsatisfying.  The long-range planner often has opportunities to recognize business needs and develop the acumen necessary for success that the instant business-owner does not. But both can use the services of a CPA to help ensure that all bases are covered and a solid plan exists to help guide them on their journey.
Key Elements of Business Formation
Business Plan – This formal statement defines the nature and scope of the business, outlines the goals and showcases the founder's ideas and how they will be realized. Its purposes are to provide a road map for the venture and to attract investors and lenders.
Start-up Capital – This asks and answers the amount of capital necessary to start the business and keep it running until it becomes profitable. This could be anywhere from a few months to never reaching successful operation, but the plan should cover at least the first year. The plan must also cover resources for the capital and cover personal needs of the owner. If the owner depends upon profit immediately to survive, the chances for success are compromised.
Business Structure – This is the legal entity that best fits the owner's needs, tax advantages, and exposure. The business could be a sole proprietorship, partnership,  limited liability corporation, "C" or "S" corporation and each offers different tax advantages and levels of control. A CPA can help a business owner understand each entity type and determine which is most financially advantageous.
Bookkeeping System – Every company needs a system of tracking income and expense, cash management, payroll, billing and collection procedures and so on. A CPA can help determine the level of need and the most economical ways to fill those needs.
Applications and Licenses – This includes local licenses and permits specific to the business operations, as well as state and federal tax identification numbers.
Contact Us
Whether your business is still an idea scribbled on an envelope or ready to open its doors, our professionals can provide you with a consultation to ensure that all of your bases are covered and you are on the right track for a successful venture.
Fill out the form below to e-mail us.